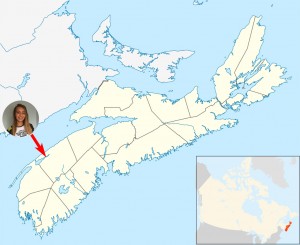 My host family lives in the small town of Annapolis Royal in Nova Scotia. The city counts a little less than 500 inhabitants. It's the oldest town of Canada.
The weather is pretty nice. The temperature can reach 30 °C in summer and come down to -25 °C during the winter months. I won't forget to take with me t-shirts, skirts but also a down jacket and a warm hat!
As you can see, the village is located at the water's edge. It is the river Annapolis which flows into the bay of Fundy. My host Dad already told me we can go whale-watching! He has a Zodiac boat.